New Project by Professor Mike Watson: The Revolution Will Be Live-Streamed
Communications professor Mike Watson, together with artist and musician Simone Bertugno, will present the exhibition The Revolution Will be Live-Streamed,  in Palermo, Italy on March 24.
Professor Watson and Simone Bertugno are an artistic duo known as "League of Art Legends" According to Professor Watson, "The multimedia works featured in the exhibition reflect on our complicity with a media and political culture that offers both boundless opportunities for freedom and the risk of an all-pervasive tyranny."
The exhibition, which will take place at the independent space N38E13 in Via Maqueda 7, continues the duo's exploration of social stratification within the arts and digital media. The opening night will feature a live VJ/Electronics set entitled 'Art. Class. War: The Revolution will be Live-streamed.'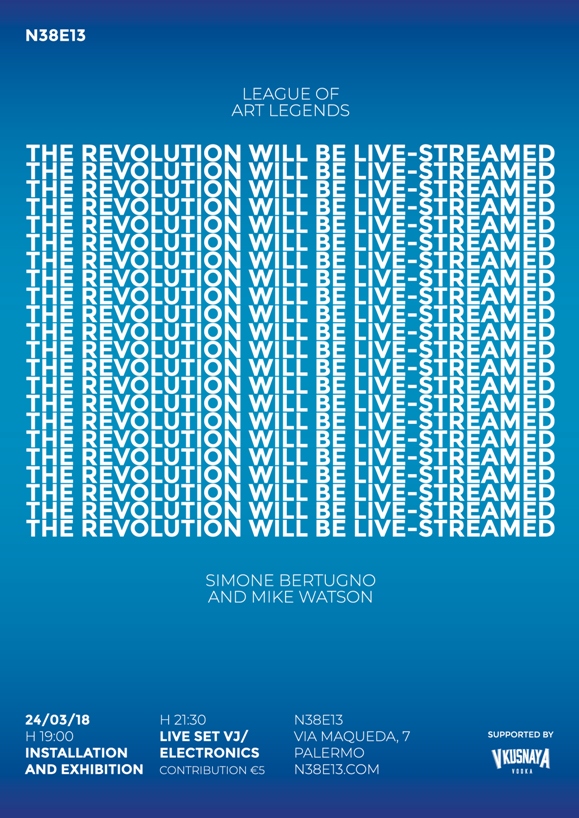 This project is an anticipation of Politics of Dissonance – a festival of sound, noise, political video, and VJ performance – selected an official collateral event of Manifesta 12. Considered the European Contemporary Art Biennial, Manifesta originated in the early nineties and has developed into a traveling platform that focuses on the dialogue between art and society in Europe.
Conceived by Professor Watson, Politics of Dissonance is a festival of sound, noise, political video, and VJ performance to be hosted by N38E13 on July 6-8, 2018. The event aims to bring together independent spaces and practitioners from across the world to collaborate in a performative investigation into the discord that defines our times. Drawing on dissonance both as a musical term and as a term used to describe social rupture or unease Politics of Dissonance invites sound and noise artists and musical practitioners as well as VJs and video makers to engage in performances or to create installations that focus on the role of dissonance in giving form to our times.
Mike Watson is an art theorist, critic, and curator based in Italy who is principally focused on the relation between art and politics. He holds a. Ph.D. in Philosophy from Goldsmiths College and has curated for Nomas Foundation and at both the 55th and 56th Venice Biennale. He has written for the following publications: Art Review, Artforum, Frieze, Radical Philosophy, Hyperallergic. In May 2016 he published a book entitled Towards a Conceptual Militancy for ZerO books.
Both the The Revolution Will Be Live-Streamed and Politics of Dissonance are part of the research that Professor Watson is doing for the book he is currently completing for ZerO books, provisionally entitled: Millennial Aesthetics: From League of Legends and Netflix to KKW and Run the Jewels.